Solución para el monitoreo de la temperatura central interna (core).
La variable de temperatura es un indicador clave del estado fisiológico del sujeto. La naturaleza continua de la medición es bastante difícil de obtener y solo unos pocos dispositivos restrictivos (sondas rectales, esofágicas, etc.) permiten la monitorización continua de la temperatura central.
La solución e-Celsius® Performance hace posible recopilar datos de temperatura central continuos, confiables y precisos mientras permite la comodidad y movilidad de sus sujetos.
Está compuesto por 4 elementos:
Inocuoa (entrega sellada)
Almacenamiento: 2 años
Peso: 1,7 g
Tamaño: 17,7 mm x 8,9 mm
Período de muestreo: 15 s, 30 s, 1 min, 2 min, 5 min
Precisión: 0,2 ° C
Rango de calibración: 25 ° C a 45 ° C
Memoria FIFO: capacidad de 2000 datos
Transferencia de datos: transmisión RF (433 – 434MHz)
Rango de comunicación: 1-3 m
(dependiente del entorno y del paciente)
Vida Útil: 20 días
3 cápsulas por monitor
Multicanal: 7 monitores en paralelo
Almacenamiento: 150000 datos por cápsula
Autonomía: 24 / 36h
Tamaño: 120 mm x 70 mm x 15 mm
Tamaño del activador: 69 mm x 59 mm x 31 mm
Diseñada por fisiólogos, la solución fue desarrollada para combinar comodidad y facilidad de uso. La solución e-Celsius® Performance es actualmente la única solución en el mercado que permite el monitoreo continuo de la temperatura central sin ninguna restricción para el sujeto
Gracias a la memoria integrada en la cápsula, el control de la temperatura puede ser continuo, sin necesidad de llevar el monitor continuamente.
Ventajas clave del sistema:
Mejorar las condiciones para el seguimiento de los sujetos;
Conservar las condiciones de seguimiento ecológico (vida real, competición, ejercicio de campo, …);
Pruebas y protocolos seguros;
Reducir las limitaciones;
Disminuir los dispositivos asociados al usuario;
Mejorar la toma de decisiones a través de datos confiables, precisos y el acceso a un historial completo;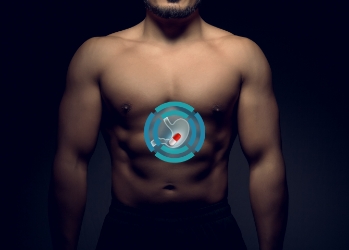 e-Celsius® Performance capsule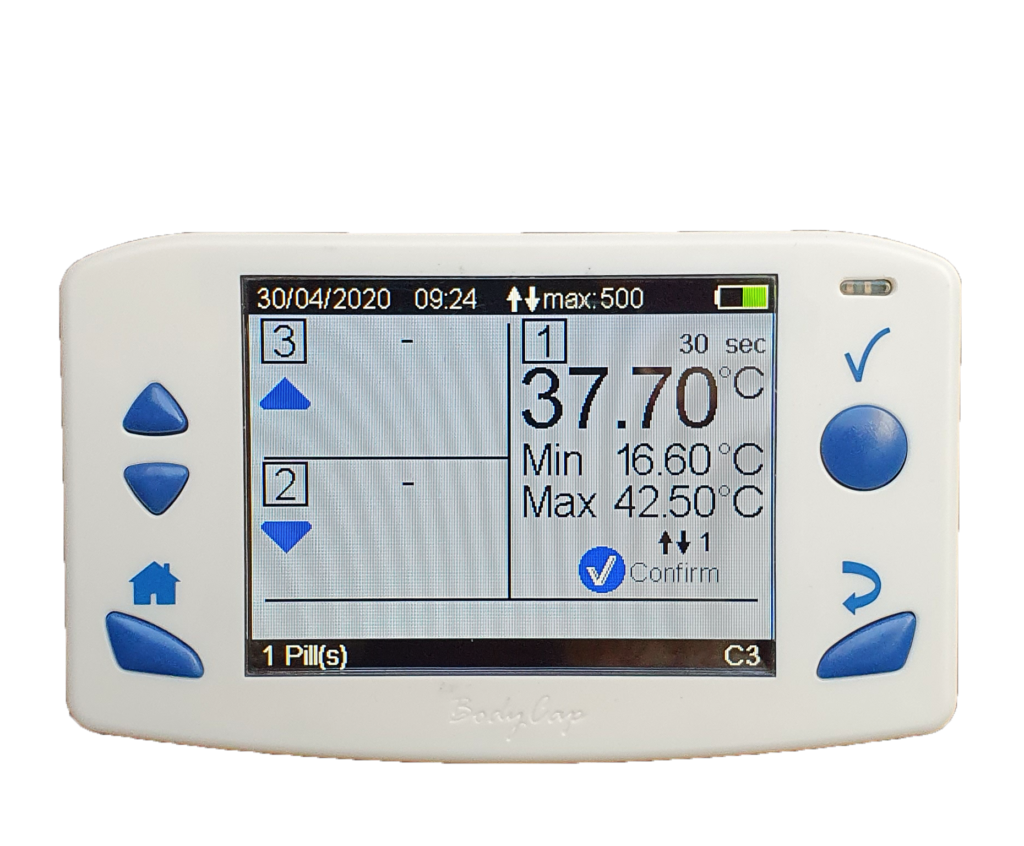 e-Viewer® Performance monitor
Varias aplicaciones: deporte, investigación y clínica
La solución e-Celsius® Performance satisface la necesidad de un control continuo de la temperatura central en muchas aplicaciones.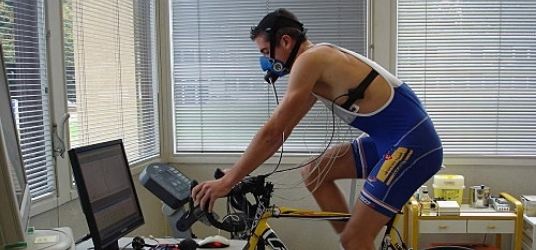 La variable de temperatura es normalmente parte de los "Resultados primarios" en el contexto de un ensayo clínico. El monitoreo de temperatura continuo, confiable y preciso permite asegurar los protocolos sin agregar ninguna restricción para el sujeto y el operador.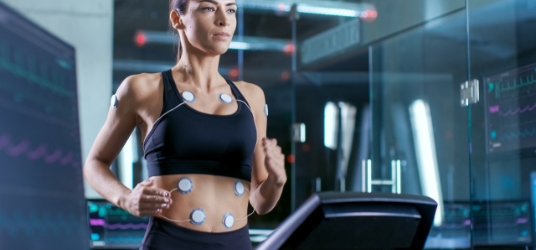 En el contexto del rendimiento deportivo, las respuestas termorreguladoras son muy diferentes entre individuos. La medición objetiva de la temperatura central durante el ejercicio permite individualizar los procesos de entrenamiento. La solución e-Celsius® Performance permite la individualización de los protocolos de aclimatación al calor y una mejor preparación para las competiciones en ambientes calurosos.
For more details on use cases do not hesitate to consult the "What is it for?"
Do not hesitate to consult us and ask us for more, eCelsius® Performance system is mentioned in many publications.